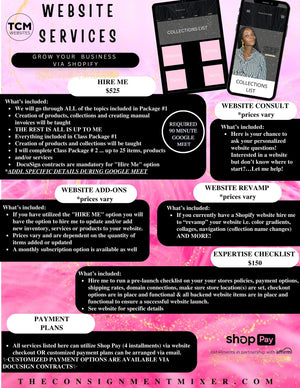 Hire Me To Build Your Shopify Website
Sale price Price $525.00 Regular price Unit price / per
Don't have the skill and/or time to create your own website? I have you covered!
I can create your website for you!
IMPORTANT INFO:
Please note that a Google Meet conference must be had before any work can start on your website. We will do the initial logistical information that is needed to start the website (ie, return address, shipping, return/shipping policies, etc) We'll also discuss how you envision the look and feel of your website. Any other specific info you'd like me to know should be talked about during this time as well.
Payment options are available via Shop Pay at checkout or we can discuss further arrangements via email.
After the conference please make sure that you email ALL information you need to be placed on your website (i.e. logo, colors, pictures, sizes, quantities, variations, etc) 

A contract will be sent and must be signed and sent back via email in order for work to begin.
An additional Google Meet conference and contract is needed at the end of the website process to make sure that the website is completed to the satisfaction as discussed during the initial conference.

The turnaround process takes about 14 business days (usually much sooner). Sending all info together shortens the creation process. 
 *Emailing me at theconsignmentmixer@yahoo.com will be our way of contact for this process. Please allow up to 24hrs for a response (but usually within the hour)